CASEMENT WINDOWS LONDON
Casement windows are some of the most popular window styles across the UK.  While SJB Sash Windows are specialist suppliers of sash systems, we are also pleased to help our customers find affordable, high-quality casement windows with ease.  There is much to the appeal of a casement style window, with one of the main benefits being low cost.  However, many homeowners choose a casement look as a result of visual appeal, too.
If you are looking for cheap local windows and are unsure which options will work best for you, why not take a look at some casement options available online?  We will always be pleased to help you find a fitting which both complements the look of your property and which works practically for you each day.  No matter what type of windows you choose, it is crucial that you consider ease of use as well as aesthetics.  But don't worry, as our team is on hand to help with any queries or concerns you may have.
Are you looking for large casement windows?  Want to know more about casement window costs?  Read on, and we will give you all the information you need.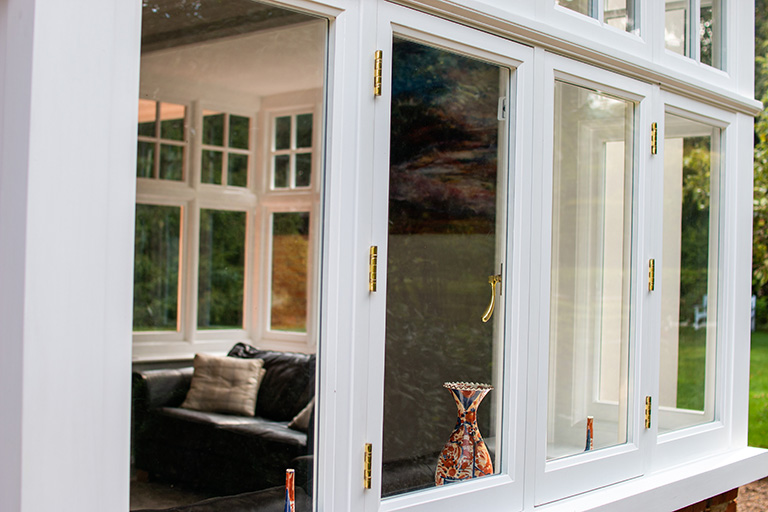 Why Buy Casement Windows?
While many people prefer to buy sash windows, casement systems are just as popular.  These hinged windows offer a classic style which you may have seen in traditional housing across the country.  Casement window styles are popular because they are easy to fit to most window spaces.  They are the perfect choice for anyone looking to replace old window systems with something a little more flexible.
While these systems do operate on a sash, a casement window sash is likely much different to what you might expect.  A casement window will swing open as opposed to sliding up or across.  This form of opening still saves a lot of space, and for many people, this type of window can bring more air into a room.  However, this will likely be more a matter of taste!
People love casement windows for their added sash technology, which means that they are resistant to cold and draughts.  A great casement system will fit snugly into its frame, meaning that you can keep out the cold and retain warmth.  For this reason, a good casement window sash could save you a lot of money on energy bills.
Wooden Casement Windows
Casement windows arrive in a range of styles, finishes and materials.  They are surprisingly versatile!  Wood casement windows are amongst the most flexible and are likely to be the most durable with years to view.  You can choose a casement system in a variety of different woods and finishes.  If you need replacement wood casement windows, they are always easy to install.
However, you must make sure that you clean and look after wooden windows regularly.  When given the right care and attention, you can get years of enjoyment from these systems.  If you are interested in learning more about wood casement windows prices, do get in touch with our team, and we will build you a custom quote.  Wood casement window cost can vary from project to project, so do be sure to keep an open mind.
uPVC Casement Windows
Perhaps the most affordable casement window systems, at least up front, there is plenty of choice in uPVC.  uPVC casement windows have been around for a long time, having been popular with homeowners for decades.  That's because the material is famously cheap, though this doesn't mean these windows are ever cheaply manufactured.  Far from it!
uPVC casements offer a lot of flexibility and charm.  If you are interested in a casement but aren't particularly sure about your budget, these options may be the first that you need to consider.  uPVC casement windows price lists are very popular with people who want high-quality home installations at knock-down prices.  With SJB, you will always receive fantastic quality products at genuine value.
Why Buy with SJB?
We offer affordable casement windows on a bespoke basis.  This means that, rather than listing all of our prices up front on our website, we encourage our customers to call us directly to access custom rates.  There are plenty of factors which can change the cost of your casement window project.
For example, if you request a complex design which will take considerable time to create, your fees may be affected.  You can also expect differences in charges between uPVC and wooden casement windows.  However, we do make sure that our prices and tariffs are competitive both locally and nationally.  This way, we can always make sure that we are giving you the best possible value.
It can be tempting to pay through a flat list of fees and charges.  However, we will break down the cost of window installation for you by only ever charge you for what you need.  We are transparent and upfront when it comes to the cost of windows and installation.  Therefore, you can always expect to know what you're going to need to pay before we even start work.  It is a great way to budget ahead.
Call the Team
Finding the best window systems for your home can take time and effort.  Not only are you going to need to think about your budget, but you should also consider style, convenience and practicality.  Are casement style windows going to be the right fit for you?  Are sash windows going to offer you more flexibility?  Don't worry.  By approaching our team, we will help you look for the ideal fit.
Use our online quotation service to grab free pricing for your potential project.  Alternatively, call our team directly to discuss your needs in person.  Sometimes, it is better to talk things out.  However, we guarantee you will have access to the same great prices online as you will offline.
Are you interested in casement windows in London?  Worried about potential casement window costs?  Don't be.  Take a look at our fabulous collection online and call our friendly experts for all the advice and guidance you need.