Bespoke French Doors London
The team at SJB has a wealth of knowledge and experience in surveying and designing a wide range of bespoke timber doors for our clients throughout the London area. Our clients can expect their new door to be custom-made, manufactured to replicate the period design of their existing door, or a completely new door design of their choosing. Our survey and technical design team are on hand to discuss your requirements with you. Whether an Entrance, French, or Bi-Fold, your new door will be tailor-made to your unique specifications.
To ensure we manufacture bespoke French doors to your required aesthetic, detailed design drawings will be provided to you for your approval before any joinery is made with a wide range of ironmongery and security choices available, as well as paint color and finish of your choice, SJB will make sure that all your expectations are exceeded. With a 50-year guarantee, our doors and frames are fabricated using Accoya Wood, which is the market-leading timber for use in exterior door fabrication. Using it exclusively due to Accoya Wood's unique properties gained through an acetylating process, Accoya Wood does not shrink, expand, or rot. When it comes to robust, resilient, great-looking doors that stand the test of time, you cannot go wrong with an Accoya Wood door from SJB.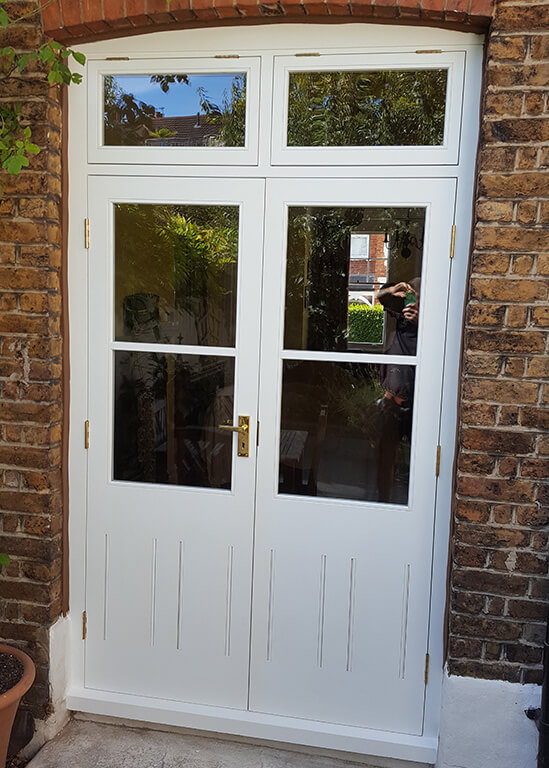 Buy French Doors
Spectacular French doors can really complete the look of a patio or rear installation.  French doors for sale from SJB Sash are designed, built and installed to a completely bespoke standard.  This means we will never offer you an awkward one-size-fits-all solution!  Buy French doors from SJB Sash, and you'll have access to a wide variety of stunning styles, builds and materials.  Furthermore, all of our options can be easily installed as part of existing home solutions or as part of new builds. We're pleased to build custom French doors for sale for a variety of purposes, and it all starts with you – you call the shots!
Upvc French Doors Online
uPVC French doors are amongst the most affordable, as well as the most resilient and stylish doors in our collection.  uPVC doors can really help to complete the look of a traditional or classical property.  Looking for uPVC French doors for sale which will complement your existing look?  In need of a door solution which will help you to open your dining room out onto your garden or patio during the warmer months?  Look for stunning uPVC French doors online which won't break your budget. We'll set you up with a uPVC French doors cost that suits your project pricing.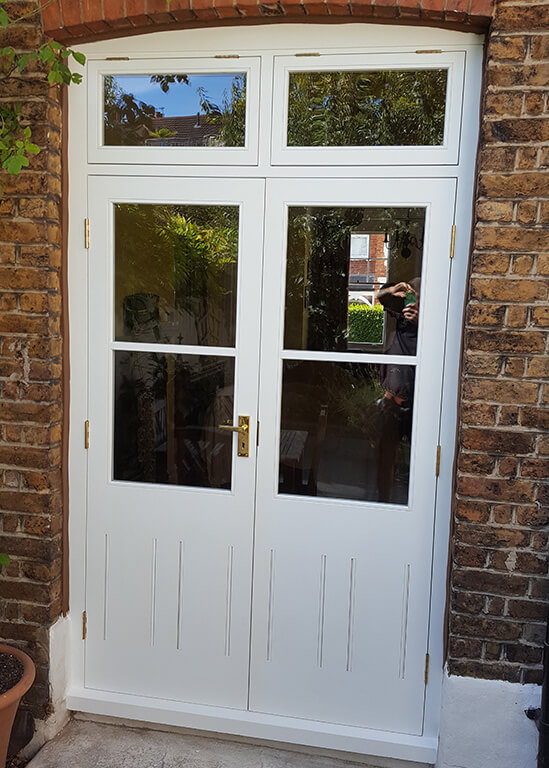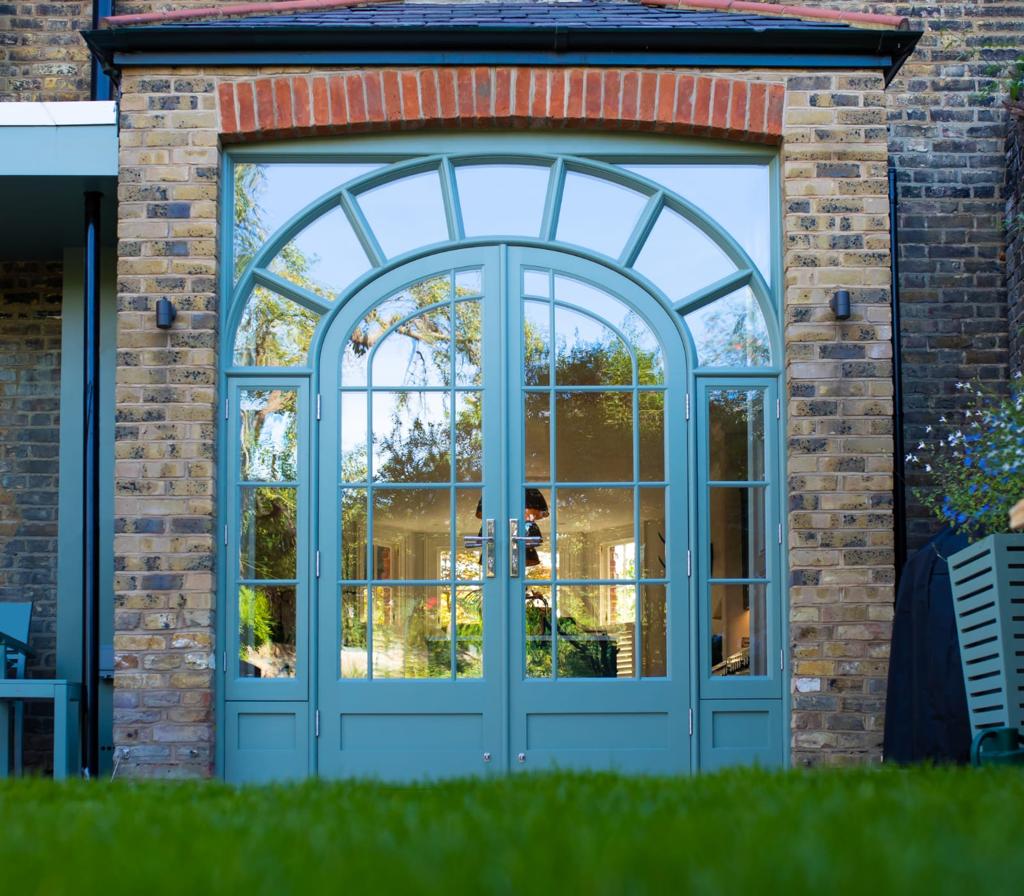 Timber French Doors London
Spectacular Timber French doors can really complete the look of a patio or rear installation, opening up your living space and bringing the outdoors closer. Our French doors are designed, built, and installed to a completely bespoke standard. This means we will always offer you a comfortable one-size-fits-all solution!
Furthermore, all our options can be easily installed as part of existing home solutions or as part of new builds. We're pleased to manufacture bespoke Timber French doors for a variety of purposes, and it all starts with you.
Sliding French Doors
Sliding French doors are a fantastic choice if you are looking to open up your interior space into the outside world. What's more, sliding French patio doors are always easy to use and won't cause any blockages. These systems are tight and secure to lock and are easy to slide open and maintain from the inside.
Sliding French doors exterior make up just a small selection of our wider array of choices. Naturally, we welcome you to take a further look at what else we have available at your convenience. French sliding glass doors could make all the difference to your property, whether you own a contemporary home or something a little more 'period'.
Double Glazed French Doors
Double glazed French doors won't just give you a superb vantage point into your garden; they will help to lock out the cold, too. Double glazing is an excellent standard that our specialists recommend for a variety of reasons.  For one thing, double pane French doors will keep out excess noise, as well as trap in any heat you wish to retain in your home. For that reason, they will more than pay for themselves in time to come. Why settle for an expensive solution which won't work overtime for you?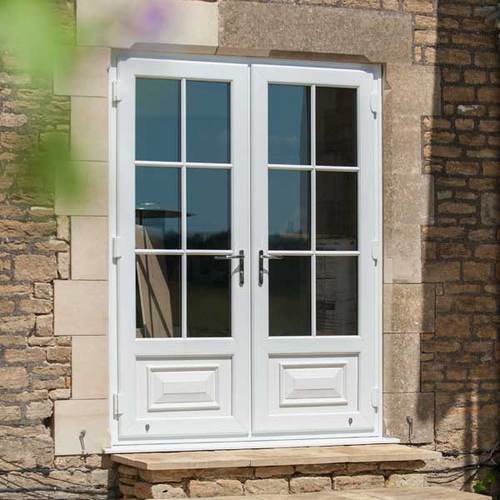 Request A Quote
To request a quote fill in your details in the form and we will be in touch to discuss your requirements as soon as possible.
Exterior French Doors
Exterior French doors can arrive ready glazed to various standards and strengths. Are you on the lookout for affordable external French doors for sale? We have a series of great ideas which you will really be able to work to your advantage.
Exterior French patio doors are amongst some of the most popular solutions in our collection, and it's not hard to see why. Few other modern door solutions will give you so much expansive access to your exterior property. Whether you are looking for traditional French doors or something a little more up to date, allow us to show you a wealth of choice.
Patio French Doors For Sale
Not all patio doors are the same as French door solutions. However, French patio doors will offer you unbeatable modern convenience alongside a classic style that's hard to emulate. We work hard to develop solutions which encapsulate the best of both worlds.
Are you interested in wood French doors UK? What about French-style patio doors that blend classic and modern aesthetics? Call our team today or book your free quote online via our contact form.