UPVC Doors London
UPVC is a window and door manufacturing standard which has been around for many years. It is affordable, flexible and resilient. As a leading UPVC door company in our region, we are always pleased to be able to supply our customers with a vast range of different solutions regardless of their needs. Whether you are looking for cheap UPVC doors for sale or need local UPVC doors at short notice, we will support you. You may want or need something special from a custom UPVC door. Just let us know!
Do be careful if you are looking for budget UPVC doors elsewhere. Standard UPVC door solutions will endure years of use. 'Cheap' systems won't always arrive with a guarantee of quality. However, with SJB Sash, you are always going to receive a fantastic balance between value and quality. We will never develop and sell inferior quality products so that you can save money. We want to produce fabulous bespoke UPVC doors and windows for customers at prices they can feasibly afford. Why should you ever have to pay more?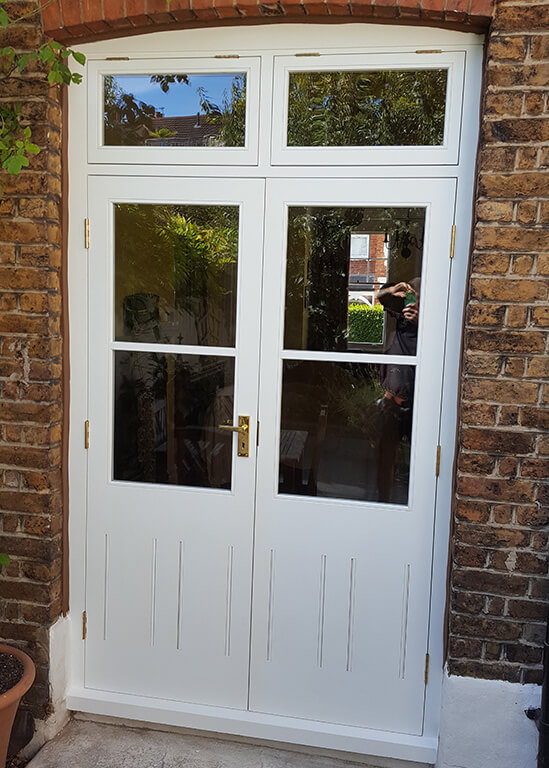 UPVC French Doors In London
UPVC French doors are amongst some of our most popular solutions with local customers. UPVC French patio doors give you a fantastic vantage point over patio and garden spaces. What's more, design and installation will always take your existing home decor into account. Blend your lounge or dining room with your exterior space with ease with French doors in UPVC.
UPVC French Doors operated on a hinged basis and are perfect for classical or period properties. If you are interested in learning more about UPVC doors London, simply call our team or book a quote online to get access to the best rates.
UPVC Folding Doors
Many modern UPVC doors offer fantastic accessibility and style. UPVC folding doors are some of the most flexible solutions in our catalogue. That means you will always be able to fold them out and bring them back in whenever you need them. UPVC folding door solutions are ideal for anyone who wants to start blending the indoor with the outdoor, offering you a simple step out into the open. UPVC folding patio door prices, too, are very competitive. Our team is always here to provide you with incredible savings on some of our finest door solutions.
If you need UPVC sliding folding doors fitted at short notice, make sure to get in touch with SJB Sash. It's our job to present you with a flexible, reliable solution which won't break your budget.
UPVC Sliding Doors
Whether you like the look of a white UPVC back door or grey UPVC external doors, fantastic UPVC sliding doors may offer you precisely what you need. UPVC sliding patio doors are easy to use and easy to close. They are remarkably secure and can be built and fitted to a wide variety of different home standards. Many people will look for affordable UPVC patio door prices to fit their budget. At SJB Sash, we want to deliver savings as significant as we can to our customers. UPVC sliding doors are undoubtedly some of the most cost-effective and straightforward door installations in our collection. There is little doubt you'll find the perfect look and fit for your budget here.
Contact Us For Top uPVC Doors Near You
If you're interested in setting up a new uPVC door in London or elsewhere, allow us to show you a world of choice. We offer doors and solutions on a bespoke basis, at prices you can afford. Contact our team via phone 02082969487 or through email as soon as is convenient.