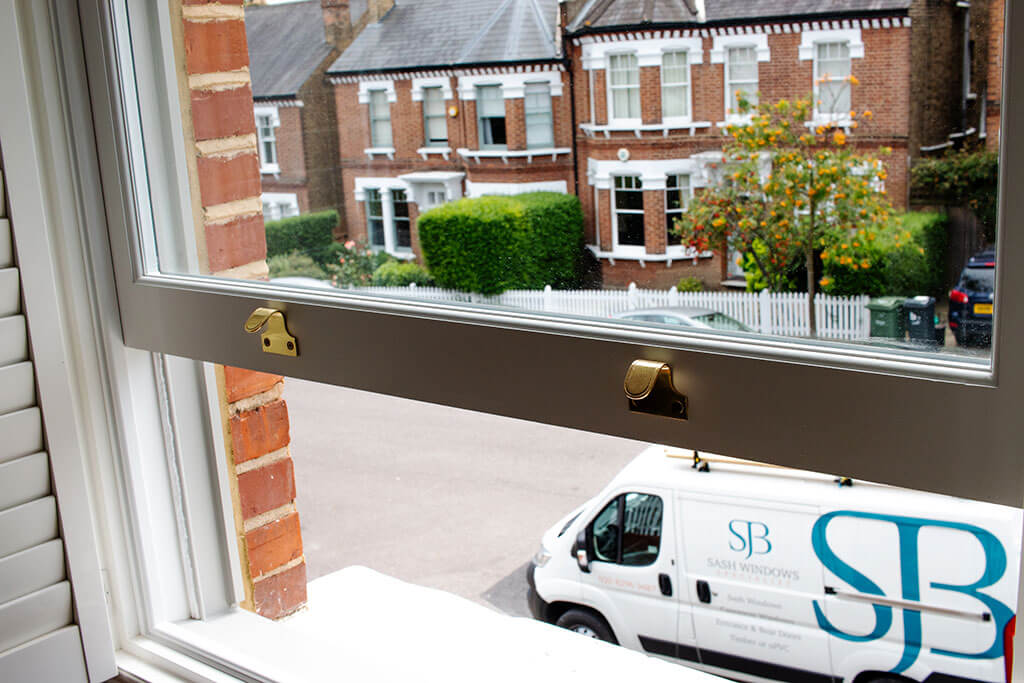 Sash Windows! uPVC or timber sash windows! Install sash windows at a budget-friendly rate! *Whew* You must have been bombarded with flyers like this, shopkeepers and bundles of information on the internet! British residents always go gaga over these windows, and why wouldn't they? Sash windows are a proud and prestigious heritage of our architectural history.
Sash windows definitely hold many more elements than merely being used for an aesthetic addition, which is imperative for one to learn. Thus, here is your concise guide to help you with the "What" and "Why's" of a sash window.
What is a Sash Window?
Typically, a sash window is a vertically opening window with two framed sashes typically positioned against each other with movable panes. The space between the two units allows them to move up or down smoothly without the danger of rubbing against each other and causing damage. The movement of the sash is assisted with the help of counterbalanced weights on cords and pulleys. The counterweights are hidden within a box within the frame or can be exposed as well. The modern sash windows do not require counterweights or cords and pulleys but instead use spring balances to manage the up and down movement.
Sash Window Categories
The beauty and elegance of a sash window are not limited to vertical sash windows but expand to many styles and designs to adorn your walls. Let us discuss these kinds and varieties below:
Georgian Sash Windows: The oldest and original sash windows that are still in use and evoke grace in the Georgian Sash Windows. Also referred to as "six over six", these window styles have two window units, each with six window glass panes.
Victorian Sash Window: One of the most celebrated sash window styles during the Victorian era was the "two over two" sash windows. These windows had two panes for each sash.
Edwardian Sash Windows: The Edwardian sash windows were designed for bigger homes with higher ceilings that needed more natural light to pass through. Accordingly, these windows had a "six over two" design, i.e. a single and two glass panes for each sash.
Yorkshire Sliding Sash Windows: Architectural innovations and the need for larger windows led to a shift from vertically sashed to horizontally sliding sash windows as the Yorkshire Sliding Sash Windows.
Venetian Sash Windows: These windows were designed for terraced houses with a movable sash in the centre with a fixed sash on either side.
Originally, sash windows were manufactured and supplied only with wood as the preferred frame material. But, with technological advancements and to meet the ever-changing customer requirements, uPVC Sash Windows were devised gradually. uPVC is a material that substitutes the feel and looks of the original timber sash window with more extended longevity and lesser stress of rotting or maintenance.
Types of Sash Window Glazing?
A single-glazed sash window, which is a single pane of glass, could not hold up efficiently against the weather conditions, increasing condensation and energy consumption. Thus, with great improvisation, more glazed units were introduced, such as:
Double Glazed Sash Windows: A double glazed sash window has two window panes fixed in a frame that does not allow moisture or air to pass through, aiding in insulation, reduced condensation and noise pollution. These double-glazed windows are also tough and hence boost a property's security.
Triple Glazed Sash Window: If you are looking for an even further advanced thermal efficiency than double glazed windows, then opt for triple glazed sash windows as they have three glass panes fixed in a frame for higher efficiency.
Secondary Glazing: If you reside in a period property and wish to conserve your timber sash window, you can still enjoy high-performance insulation by installing secondary glazing to your existing window.
Perks of Sash Windows
Highlighted below are a few of the essential benefits of a sash window:
It offers a period and traditional charm
Increased ventilation
Natural insulation
Low maintenance
Draught-Proof
Enhanced security
Can You Create a Bespoke Sash Window?
Absolutely, yes! Today every homeowner wishes for an interior that suits and reflects their personality and style. Thanks to innovation and technology, the scope of sash windows have expanded to cater for a wider audience. Whichever design or colour gradient you choose at SJB Sash Windows, we make and tailor it to your specifications. We have various styles to choose from and dual and single-tone colours to match your home decor and other furnishings. Design and customise your sash windows as per what you fancy with SJB.
Are Sash Windows Affordable?
Many sash window manufacturers and suppliers in the market may quote a high-end price. But with SJB, you receive quality installation and budget-friendly prices. With our sash windows, you will receive value for money with a one-time investment that lasts longer without the constant need for maintenance. We offer an assortment of packages for you to select per your budget.
SJB – The Sash Window Specialists
SJB Sash Windows is a family-run business excelling in manufacturing and supplying premium quality sash windows since 2001. Whether you require expert sash window installers or quality and excellent tools and materials – we furnish all your requests with ease. Our sash windows are A++ rated with a ten-year guarantee. You can speak to our customers or check with our Trustpilot reviews! Your home and money invested in us are in safe hands! Connect with us today!