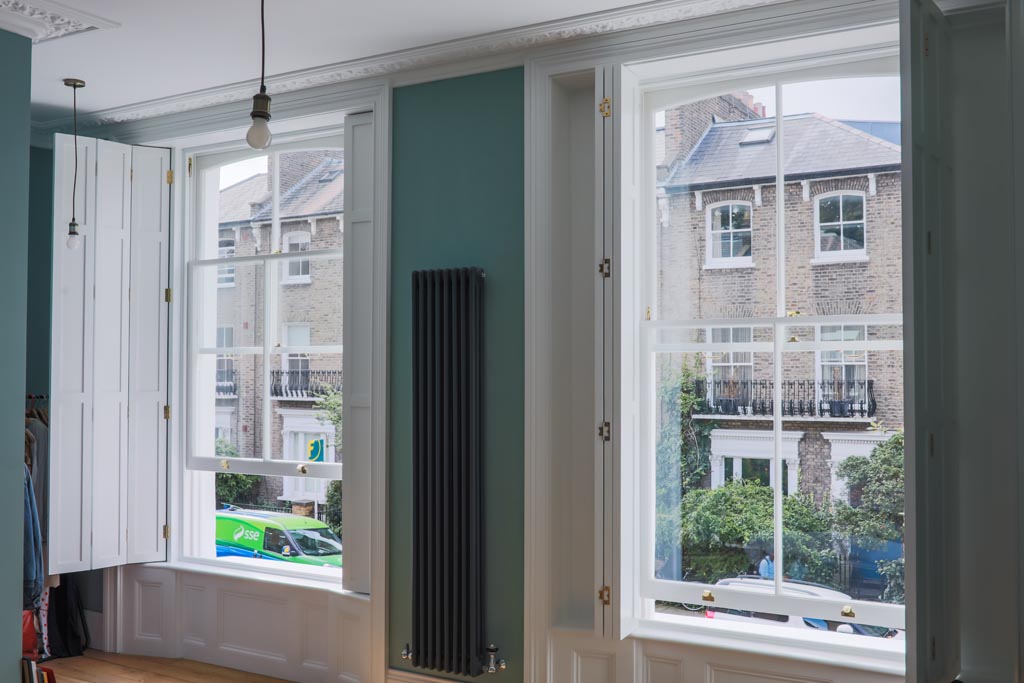 The timeless allure of Sash Windows
It is 2021, and have you ever wondered why Sash Windows having its association with the 17th century, are yet so popular and in-demand? It's a question that is often asked and still the one worth answering. Previously, long before the invention of sash windows, casement windows were widely used which, could be opened or closed entirely using a latch. Casement windows were dark and draughty, letting in the damp and chills.
The evolution of sash windows brought in a breath of fresh air and changed the face of British architecture. According to the users ' convenience, they can efficiently open sash windows just a bit or more. The advent of six-over-six movable panel windows of the Georgian era and the two-over-two movable panel windows of the Victorian era was revolutionary as they shaped a new way of window styling for buildings and homes in the UK.
The novel sash windows were earlier only embraced by the English Royalty and landed aristocracy because of their price range. However, steadily they were accepted by everyone and became the leading window of the day.
Sash windows are a timeless character. These windows with their place sealed in British history are among the main reasons we can still see them around beautifully adorning our homes, mansions, and buildings. It isn't easy to look around without finding a sash window embedded in the buildings and homes in the UK even today. Gone are the days when sash windows were installed only by the wealthy. It is now accessible to all at economic rates. In addition, people can now directly contact reliable and trusted sash window specialists to get their home a gorgeous sash window.
Choose and Stay with Sash
Are you disconcerted with the thought that sash windows only existed for the historical period and not for the 21st century? Are you wondering whether sash windows today could meet all your modern-day window requirements? Well, you certainly need a guide and help from a sash window specialist in the fenestration field.
Simple in style, classic in feel and elegant in design, sash windows may have their association with the 17th century, but that does not mean they cannot evolve and operate like high-performing quality 21st century contemporary windows.
Sash windows have stayed around and graciously reign the world of windows because they continue to meet our ergonomic needs, thankfully due to technological advancements. They are beyond aesthetics. Sash windows provide energy efficiency, letting you comfortably enjoy the warmth during chilly nights and save your heating bills.
Sash windows have become the need of the hour and have a growing interest in the market due to double glazing. Protect your windows from rotting, ensure durability and premium insulation by preferring double glazed sash windows.
Sash Styles and Materials
Sash windows come in an incredible range of unparalleled styles, sizes, materials and colours options to make sure you select a window style with ease and satisfaction. With the help and assistance of a sash window specialist, you are sure to make the correct choice. Standard sash styles include a single-hung, double-hung and a sliding sash window. A few modifications are windows that slide vertically, horizontally or tilt outward from the top, bottom or side. Sash window styles and preferences change from time to time. But, one of the biggest challenges is to ensure that the sash window installation results are as authentic as possible. Whether is it a heritage home, a modern house or something in between, the sash windows attached nowadays can match the exterior of the home, be eye-candy and meet all your prevailing functionality requirements as well. First, let's read about the varied framing materials available.
Timber: Timber sash windows are as relevant as they have ever been. Wood takes the upper hand amongst all the framing materials as it is natural and exudes an aura of class and elegance, adding real value to your property. Apart from providing a durable and secured window solution, Timber sash windows are an excellent source of insulation. They make a perfect fit for winters giving your home a cosy environment, and you can also enjoy the cool breeze during summers. Timber sash windows are an outstanding choice all year round at cost-effective prices.
uPVC: There is a rampant demand for quality uPVC sash windows in London because of the multiple benefits it offers without compromising the property's worth. uPVC leaves a sleek shine on your windows and are corrosion plus termite-free. You can now enjoy your stay satisfactorily without the worry of letting in the damp and draughts. uPVC material is highly efficient, saving your heating bills and providing exceptional security, soundproofing, and low maintenance.
Composite: The luxury aesthetics of timber with the modern features of uPVC with Composite windows. Composite sash windows offer a refreshing alternative to conventional sash window framing materials. Composite sash windows fit the bill, as they provide outstanding energy efficiency, durability, premium insulation with flexible and classic designs at budget-friendly prices.
Plenty of people are now opting for double glazed sash windows as it renders an added layer of security and sturdiness to your windows.
Use a Sash Window Specialist
Today, there are numerous window styles and materials available that may leave you perplexed, making a wrong decision. In such a scenario, it is advisable to use the help of a window specialist who can provide a 360-degree fenestration solution. SJB Sash Windows is a family business specialising in window manufacturing and installation for decades. Being a leading supplier of sash windows in London and beyond, we have provided satisfactory and dependable services to thousands of families and homes at bespoke rates. Being in the business for years, we understand what your home means to you. Hence, we deliver a high-quality service tailored to your needs and desires. Customer satisfaction is paramount for us. We don't just believe in selling window solutions. Instead, we analyse your property type, area, keep in mind your budget and accordingly assist you with the best possible quality prospects. Thus, you can rely on us. You can also check our positive reviews and feedback on Trustpilot.
Need more advice?
Please connect with our friendly and highly experienced team members today. Get a free quote now or contact us on 02081389425. You can also visit our website and fill the contact form or get in touch via email. We also offer quotations via video call. So what are you waiting for? Contact us today for the finest pair of sash windows.